A mother of five is asking parents to keep their sick children at home after a recent respiratory syncytial virus (RSV) outbreak infected three of her daughters and led to a frightening hospitalization for one of them.
Carmen Bremiller, 27, of Barker, New York — in Broome County — has been caring for her daughters for several weeks and said the road to full recovery is ongoing.
Bremiller told Fox News Digital that all five of her children — Sophia, 10, Ashlynn, 6, Caroline, 4, Ava, 3, and Kinsley, 1 — caught the common cold in early September after they returned to in-person schooling for the first time since the COVID-19 pandemic began.
EARLY, SURPRISING SURGE OF RSV IN KIDS HAS HOSPITALS, MEDICAL CENTERS CONCERNED 
She said she kept her children home for one week until they seemed to recover, but by early October, they exhibited cold-like symptoms once more. 
This included fevers, eye mucus and loss of appetite, according to Bremiller.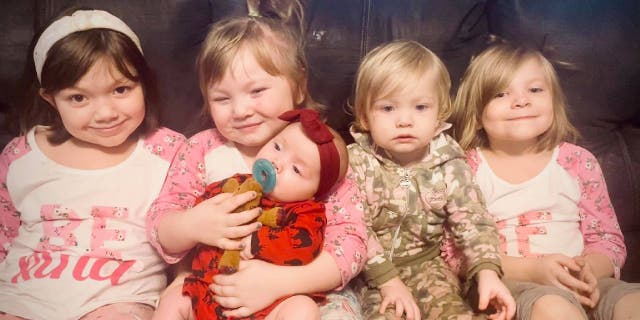 "I called their doctor's office and talked to the nurse, wanting them to be seen, but was told they just had a cold and to treat it as such. So, that's what I did," Bremiller recalled.
Three of her daughters, who were all under the age of five, had high fevers and Bremiller reportedly gave them over-the-counter pain relievers to try to ease their discomfort.
IN BOSTON, RSV CASES IN KIDS CREATING A 'CAPACITY DISASTER' FOR ONE MAJOR HOSPITAL
Bremiller said she contacted her children's doctor's office again about her concerns because she felt the kids were sick for an abnormally long period, but she was repeatedly told their symptoms were likely connected to the earlier cold they had.
The U.S. Centers for Disease Control and Prevention (CDC) defines the respiratory syncytial virus as a "common respiratory virus that usually causes mild, cold-like symptoms." It can cause bronchiolitis and pneumonia in children under age 1.
Then, around Oct. 6, Bremiller said the local Head Start program where two of her daughters were enrolled reportedly informed her that there were confirmed cases of flu, pink eye, croup and RSV.
Bremiller said three of her daughters were then diagnosed with RSV after she took them to an urgent care for evaluation.
The baby stopped drinking fluids completely.
"My two middle children became pretty sick but got over it on their own and are doing much better," Bremiller said. "Unfortunately, my youngest daughter didn't do so well with it."
Kinsley, who's now a year old, experienced occasional fast breathing, but she didn't appear to be in respiratory distress, according to Bremiller. 
Then she stopped drinking fluids completely.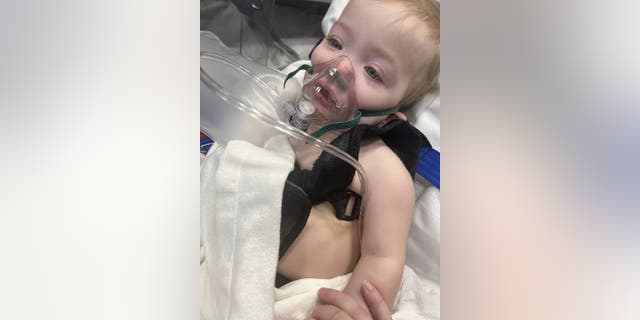 When medical staff examined Kinsley on Oct. 12, her oxygen levels were found to be low, and they remained that way even when she was given an oxygen mask.
Bremiller said Kinsley was transferred to a children's hospital in Buffalo via ambulance and that emergency room staff determined her child had pneumonia from a chest X-ray, while blood work confirmed RSV was still present.
COVID-19 OR RSV? SYMPTOMS TO WATCH FOR
Kinsley's left lung had water in it, so she was moved to the ICU and put on an external ventilator, Bremiller recalled.
Her condition worsened and she had to be intubated and sedated.
"It was extremely hard seeing her like that," Bremiller told Fox News Digital. "With a tube down her throat, completely unconscious, and all kinds of lines and IVs. I tried not to cry."
She continued, "I felt responsible. How could I not know how sick she was? Why didn't I take her in sooner? How could something like this happen so fast?"
Oxygen level: What's a healthy reading?
Oxygen saturation of 95% and above is "normal for healthy children and adults," the CDC says. Pulse oximeters measure oxygen saturation levels; they look at the proportion of oxygenated hemoglobin in pulsing blood.
Kinsley's three-week hospitalization included more medical scares for the child. 
There was a temporary blood clot from an arterial line in her leg, which required treatment; a change in color when her oxygen level dropped again, which required a ventilator switch; and signs of anemia, which required a blood transfusion, all according to Bremiller.
RSV SURGE RAISES QUESTIONS ABOUT REPEAT CASES: CAN YOU OR CHILD GET IT AGAIN? 
Kinsley's vital signs took a hit when a mucus plug got stuck in her airway on Oct. 18, Bremiller said.
"She had low heart rate, low blood pressure and her oxygen level went down to 60%," Bremiller recalled. "They…


Read More: New York mom whose baby struggled with RSV has urgent message for parents